Videos
A collection of videos that cover a broad range of issues related to my research. Scroll down the page to see them all.
"Understanding, influencing and predicting farmers' adoption of new agricultural practices", ZALF Internal Colloquium, 21 June 2022
"Could soil carbon sequestration ever be a worthwhile climate policy?", 20 May 2022, webinar presented by AARES, CEEP and CAED
Farmer adoption of new practices (in the context of soil health/carbon sequestration), National Soils Advocate Forum, 5 May 2022
Managing extreme prices for nitrogen fertiliser, Nutriens National Webinar Series, 2 March 2022
Reducing Agricultural Water Pollution: Combining Production Economics and Behavioral Economics. 31 January 2022, CBEAR (Center for Behavioral and Experimental Agri-Environmental Research)
Benefit-Cost Analysis criticisms 5: "money isn't everything", 14 February 2022
Benefit-Cost Analysis criticisms 4: "not fair", 24 January 2022
Benefit-Cost Analysis criticisms 3: "discounting is bad", 10 January 2022
Benefit-Cost Analysis criticisms 2: "too much uncertainty", 6 December 2021
Benefit-Cost Analysis criticisms 1: "any result you want", 25 October 2021
Keynote address, Treenet Conference, 2 September 2021. "The Value of Urban Trees".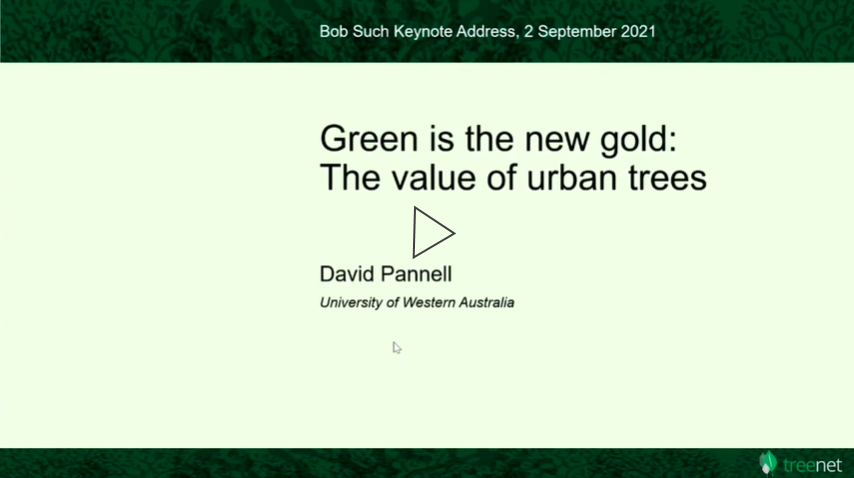 Seminar, 7 May 2021, "Decision criteria for Benefit: Cost Analysis: A world of confusion", 33 minutes plus 20 minutes of questions and discussion.
Overview of my UWA course on Applied Benefit: Cost Analysis
"Agriculture, Economics and Nature" (3:46). Introduction and overview of free online course, which is available on Coursera.org. To enrol in the course, go to https://www.coursera.org/learn/agriculture-economics-nature
Research on farmers' adaptation to climate change, 60-second research video, 10 Sep 2019
Fertiliser and water pollution: understanding the economics, 60-second research video, 10 Sep 2019
The economics of agricultural input management, presented at the Ontario Ministry of Food, Agriculture and Rural Affairs, in Guelph, 16 July 2019.
Benefit: Cost Analysis of water-sensitive projects and policies, presented at a workshop in Adelaide on 5 February 2018.
"Uncovering the economics of water-sensitive cities" (13:50). Interview about key economic principle to be aware of when evaluating investments in water-related projects (or indeed any environmental or natural-resource project).
"Understanding the costs and benefits of fire management strategies" (5:36). Outline of economics research conducted for the Bushfire CRC.
"INFFER: Investment Framework for Environmental Resources" (2:57). Introduction to INFFER and interview with a user.
"The economics of natural resource management: Australian research and contributions" 2016
"Understanding practice change by rural landholders" (8:38). From a national workshop of that title in Melbourne.
"Policy perspectives on rural practice change" (10:02). From the same national workshop on rural practice change. Includes an outline of the Public: Private Benefits Framework.
"Economics of green infrastructure in cities" (35:57). Presentation at Department of Water.