225 – It was 50 years ago today
October 5, 2012 marks the 50th anniversary of The Beatles' first proper release. The single Love Me Do came out in England to no outstanding acclaim, enjoying moderate chart success. Like most aspects of The Beatles' career, there is a great story behind it.
The year 1962 started with The Beatles failing an audition for a recording contract with Decca. The man who turned them down, Dick Rowe, signed Brian Poole and the Tremilos instead! Imagine the regret he's lived with ever since. However, if you listen to what the Beatles recorded for Decca that day (available on various semi-legal releases, and in part on 'Anthology 1′), his decision is understandable. The recordings are fascinating in the light of what came later but, in truth, they aren't very good, and some parts are cringe-worthy. Listening to it, it would have been hard to imagine any particularly notable success for the band.
This was the most well-known of numerous knock-backs they received. Pretty much every record label in England turned them down, including Parlophone, the label they would end up on. George Martin, the head of Parlophone, heard nothing that interested him in the Decca audition recordings when they were played to him by Beatles' manager Brian Epstein. However, some months later, Martin was forced to offer them a recording contract by his boss, who was responding to enormous pressure from their in-house publishing company, which wanted to publish the songs of Lennon and McCartney.
Their first Parlophone recording session on June 5 was different from the Decca episode in several ways. For one thing, from the two songs that survive from the session, they sound much better – more together and fuller. Secondly, three of the four songs recorded were Lennon and McCartney originals, including Love Me Do, whereas for Decca they mainly recorded cover versions. Thirdly, they had a recording contract – it was not an audition.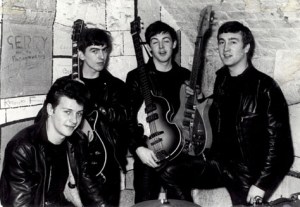 After the recording session Martin's main negative comment was that he didn't think much of their drummer, Pete Best. This precipitated one of the most discussed episodes in the band's career: Best's sacking and replacement by Ringo Starr, right on the cusp of their breakthrough to massive success. This was really tough on Best. He had paid his dues thoroughly with the band, performing in hundreds of shows with them, and being a key part of their evolution from rank amateurs to a band ready for extreme greatness. He had suffered with them through two years of extremely poor playing conditions and long, long hours in the seedy clubs of Hamburg. Best was also a popular band member amongst Beatles fans, due to his moody good looks – a sort of James Dean character. (You can get some hint of that in the above photo – Best is on the left).
The other element of the controversy was the way he found out the news – from manager Brian Epstein, rather than from his fellow band members. It was terribly cowardly of them, really.
So why was he sacked? A range of reasons have been proposed.
(a) He didn't fit in well with the other three Beatles, who were extremely tight-knit and shared a distinctive sense of humour, and a distinctive hair-do which Best refused to adopt.
(b) The others were jealous of his popularity.
(c) He was a poor drummer.
I think reason (b) is implausible. A popular, handsome member is an asset to a pop band. Each of them had an avid individual following, anyway, even in those early days. This reason was made up by fans in Liverpool who lacked the musical knowledge to judge reason (c).
The Beatles themselves referred to reason (a) in the 'Anthology' TV series, and it certainly was part of it. Best kept himself apart from the other three, choosing not to socialise with them.
But the main reason was (c). You can hear Best's drumming on various historical releases from those very early days, and it is generally pretty bad. In particular, on that first recorded version of Love Me Do from June 1962 (released in 1995 on 'Anthology 1'), the drumming is absolutely terrible. No wonder Martin didn't like it. It must have grated on John, Paul and George, who were solid musicians (or much better than solid in Paul's case). It would have been absolutely obvious to them that Best was their musical weak link. Replacing him with Ringo gave them a much tighter more professional sound, and he was much more engaged and lively on stage.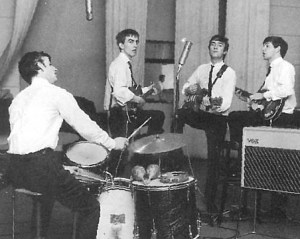 So the first set of recordings was shelved. When The Beatles returned to the Abbey Road recording studio on September 4 to have another go at recording their first single, Ringo was the drummer, having quit his existing band with only a couple of days' notice. George was sporting a black eye, received from a Beatles fan protesting about Best's sacking (or another theory is that it was a local tough jealous of his girlfriend's interest in the band). George's head is intentionally angled away from the camera in the photo from the session (left – he is second from the left) to hide his shiner.
There were two songs in contention for the single A side: Love Me Do and a song that George Martin preferred, How Do You Do It?, which was not a Beatles original. After the sessions, The Beatles argued strongly that they wanted to go with Love Me Do rather than covering somebody else's song. This speaks volumes about their confidence even then. These days, it is expected for bands to write their own material, but that is purely a result of The Beatles. It was almost unheard of in those days. And to resist the preferences of their producer, who would have been used to getting his own way, was also courageous. What's more, George Martin's judgement about the commercial potential of the other song was spot on. It was later a number 1 hit for Gerry and the Pacemakers.
But the Beatles hated How Do You Do It? – it was far too wimpy for them. So, right from the start, The Beatles demanded creative freedom from their producer. George Martin really didn't want to allow it – he still didn't think much of Love Me Do. However, when the songwriter of How Do You Do It? heard the Beatles recording of it, he hated what they had done to it, and refused to allow them to release it, leaving Martin with no choice but to make Love Me Do the A side.
Because How Do You Do It? was ruled out, they now lacked a recording for the B side. So they went back to Abbey Road a week later to record P.S. I Love You. This marked another dramatic moment, as the Parlophone producer (not George Martin this time, but a stand-in named Ron Richards) had engaged a session drummer, Andy White, to replace Ringo. This was really unnecessary and unfair on Ringo. His playing on the second version was fine, although he'd had some difficulties during the second recording session. You can't hear Ringo's difficulties in the recording (it is available on 'Past Masters Volume 1'), but there were other more obvious weaknesses; Paul's singing was a little bit off in one or two places, and the bass guitar was slightly out of tune. So it was fortunate that they had this third session, as it gave them the opportunity to record Love Me Do for a third time (once they'd finished recording P.S. I Love You), and this time they nailed it. Ringo was gutted not to be playing on it, but he dutifully played tambourine along with the session drummer. This certainly is the best version of the three, due to better singing, the bass guitar tuning and the overall mix – nothing to do with the drumming.
Ironically, when the single came out on October 5, due to a mix-up, it contained the second version with Ringo on drums. It was switched to the third version on the 'Please Please Me' album and on subsequent pressings of the single. To avoid that mistake happening again, EMI destroyed the master tape of the Ringo version. They had to take it from a copy of the first pressing of the single to include it on 'Past Masters Volume 1'.
The song peaked at number 17 on the English charts. To me, this seems about right. As a song, Love Me Do is OK but not great – probably their weakest single. Mind you, it  could have gone higher if Parlophone had promoted it properly. George Martin felt it had no prospects of making the charts, and left it to sink. Only after it made the top 20 anyway did he realise that he'd misjudged it and come fully on side as an enthusiastic ally.
Love Me Do is one of only a few of their very early compositions that they actually recorded for EMI. (others included One After 909, I'll Follow the Sun and When I'm 64.) Interestingly, they had written dozens of songs together in 1957-59, but hadn't written any at all in the two years before Brian Epstein became their manager at the end of 1961. In their shows they were solely a covers band until they got the recording contract, and for some reason they were kicked into action as composers at that time (probably encouraged by Epstein).
Love Me Do wasn't released in the US at that time. By the time it was, in 1964, The Beatles were totally dominating the music industry, and it went to number 1 as a matter of course.
After Love Me Do, the pace of The Beatles' improvement in song writing and recording was unbelievable, reaching something close to perfection just 4-5 years later with the Penny Lane/Strawberry Fields Forever single and then the 'Sgt Pepper's Lonely Hearts Club Band' album. Play Love Me Do and Strawberry Fields Forever back to back and be amazed. From simple pop song to an astonishingly great piece of art in four years.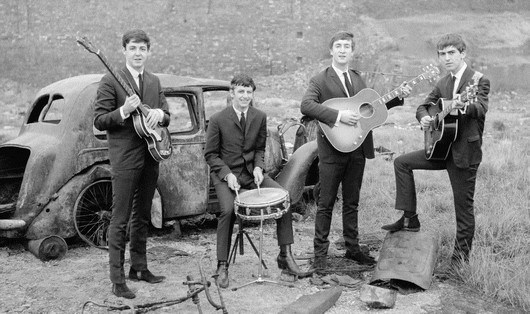 P.S. 27 December 2013. I have extensively edited the piece to bring it into line with the correct history, as described in the fantastic new biography "Tune In" by Mark Lewisohn. His account corrects a number of errors that have been perpetuated in all previous biographies. For example, he clarifies that the first session for Parlophone was not an audition – they already had a contract by then. Also I had no idea that George Martin signed them against his will. That's amazing. It is also the first book to be really clear about why Pete Best was sacked. I've always known he was a terrible drummer with awful timing – just listen to the recordings! But no previous book had made clear to non-musician readers how terrible he was. They can have no doubt after reading this book. Here are four examples that make the point eloquently.
Early Beatles collaborator Tony Sheridan said, "Pete was a crap drummer, you can take my word for it. He was just not competent, and there were discrepancies between his feet and his hands."
In an earlier recording session in Germany, the producer didn't think Pete's drumming was good enough for recording. He physically removed the bass drum and tom-tom drum from his kit in an attempt to keep him on time! The engineer from the session was quoted saying "the drummer is just bloody awful".
The engineer from the Decca audition session said, "I thought Pete Best was very average and didn't keep good time. You could pick up a better drummer in any pub in London. … If Decca was going to sign the Beatles, we wouldn't have used Pete Best on the records."
Ron Richards (main producer on first Parlophone session), said to George Martin, "He's useless; we've got to change this drummer."
Clearly, there was absolutely no way Best could stay in the Beatles. Best himself didn't accept that his drumming was not up to scratch, and repeatedly claimed that there must have been some other reason for his sacking. That he could listen to those recordings and think they were OK just reinforces how unsuitable he was.