300. MOOC feedback
Last week I checked out the comments that people have left about the free online course (MOOC) that I offer, called "Agriculture, Economics and Nature". Some of the comments were so heart-warming that I thought they were worth sharing.
They highlight what an amazing thing it is to provide things to the world on an open-access basis. Thanks to the internet, you can connect with, influence and help hundreds or thousands of people who you will never meet. The diversity of commenters, and their circumstances, is just amazing.
My motives in preparing the MOOC were selfish (to attract students to our courses at UWA, to raise our School's profile), but reading these comments gave me such a warm glow that it makes me hardly care about that aspect (although it clearly has been somewhat successful in delivering those selfish aims as well).
It may seem like I've cherry picked the comments, but I promise that these are quite average in their enthusiasm. I've only tried to select the more interesting ones. I've edited out names and tidied some up a little, but not changed content at all.
I am a 52 year old single mother, from Barbados. It is my intention to operate a herbal production and agricultural business. I took the course as I needed the knowledge, since the area of agriculture would be a new and unknown area of business for me, This course has started me on the road to gaining all the knowledge I need going forward, it has exceeded my expectations, since I did not realising how intense it would be. It was a real pleasure and great learning experience for me. I am truly encouraged. Based on what I have learnt, I can now understand how to apply all of it to my pending operation, it's invaluable. I loved the structure of the course, the intensity, interest, delivery and concise method of explanation and teaching.
I'm from Nepal. I recently completed my Masters in Plant Biology and Plant Biotechnology from India. I took this online course since I was idle at home, and also because I was curious about the title. I was pleasantly surprised by the richness of the content, and I appreciate your efforts profusely. I enjoyed 'Pannell Discussions'. There, for the first time in my life, I came across the expression- "bang for the buck" (fascinating and crisp indeed!). I've been throwing that that expression around for sometimes.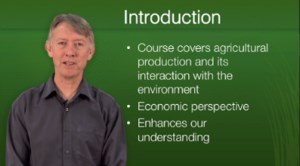 Thanks for this great opportunity to learn and gain insight about these complex but relevant interactions between economy, agriculture, and environment. I have learnt about a lot of complex theoretical models dealing with sustainable development, but written by bureaucrats or academics and usually not applicable on the field. This course was refreshingly down to earth, assuming realistic scenarios of limited funding, farmer's basically economic orientation, and scepticism to change.
Thanks for the course. I enjoyed it a lot – some new content, some refreshing old information, and an agriculture/farmer focus which was what I wanted and was new to me. It was well structured in bite-sized parts perfect for this type of learning. I also enjoyed the excel components, and in fact I have found some published studies I want to apply some of this mathematics to. I currently work in a freelance capacity, recently relocated to Vietnam, but from the UK where I previously worked for the Overseas Development Institute. I focus on the economic and policy challenges to achieving better climate and development outcomes. I have had many insights from your course.
Wow. I have never really been an academic but have always tried and tried and tried again until I finish it. I am from South Africa and have moved here for my partner who is a country lad. I fell in love with the farming here and now I work for a fruit and veg company and I loved your course. I had to retake a lot but I have finally done it. Thank you!
I very much enjoyed your course, which provided me a comfortable introduction to the wide spectrum of agro-eco issues, and dovetailed nicely with a microeconomics Coursera offering that I happened to be taking concurrently. I am a geographer at University of California Santa Barbara.
I am an Agriculture and development economics, doctoral student from University of Agricultural Sciences, Raichur. I have learnt a lot of new things in the course. I thank you for giving such an amazing enriching inspiring lecture. The references taken in the course were precise, perfect and appropriate and very useful links and pictures. Thank you once again.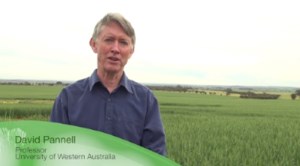 I work for an environmental NGO in California where we engage farmers to adopt more sustainable/resource conservation practices (e.g., habitat restoration, strategic water use) that are compatible with sustained levels of production. The course already sparked some questions that I have brought to my job, such as what do we actually know about the economic payoff of landscape-scale conservation. Thank you so much for the course. This was my first-ever MOOC and I'm glad I took it!
I am much pleased to learn from your experience and knowledge. I am a BSc undergraduate (biochemistry) student of the Kwame Nkrumah University of Science and technology in Ghana. I am planning of venturing into Msc. Agriculture as graduate studies and that triggered in partaking this course because of how poor our agricultural system is gradually heading way into abyss and if measures are not put in place by right expertise, failure will eventually embrace us.
Greetings from Rwanda! I would like to express my deepest gratitude for the "Agriculture, Economics and Nature" course offered by the University of Western Australia on Coursera. I am now happy to have passed all the quizzes on the 4th of September with 79.4%, and received my Certificate. I will use the skills gained in my daily work.
I am got the BSC degree in the field of soil science from the college of agriculture and forestry, Mousel University in 1979 and the MSC degree from the college of agriculture, Baghdad University in the field of soil chemistry (Salinity) in 1985. This help me in my job (Project director).I love the proposal of all subjects in this course. Finally I thanks professor david pannell so much. excuse me about the language.
I really enjoyed the program. I wish I had a chance to say a proper thank you in person to you for the way you lectured. It was simple, precise and very resourceful. I am an agribusiness postgraduate student in NZ, originally from Cameroon. Worked in the bank as farm loan manager and then operation manager.
I will be going off to King's College London this September to study international development. I would like to say a big thank you for putting together such an interesting and informative course!! I learned a lot about current problems facing the agricultural industry and different agri-environmental projects both in a global and an Australian contexts (which is really cool since I have always wanted to live in Australia at some point in life!). I will definitely recommend this course to my friends!
Hi, i am from Ghana. I am a young lady who wants to venture into the field of Agriculture. This six-week course has enlightened me on all resource available to farmers and how policies are put in place to help and motivate farmers. Every section was educative and self-explanatory.
I am from Zimbabwe but currently staying in the US. I would like to take this opportunity to express my gratitude for your service. It was an interesting course and I really enjoyed all your lectures. I am an animal scientist, I have a passion for animals and agriculture as a whole. I wish to start my own agriculture enterprise because I can feel I am now well equipped with all the knowledge needed. Once again, thank you very much for such a rich and life transforming course.
The course structure made participation an unforgettable experience; Professor Pannell expertly delivered lessons and the interview sections with stakeholders further underpinned everything taught. To Professor Pannell, I want to say learning with you has been a memorable one.
First of all, I would like to thank you for giving me a great opportunity to learn more about economics in agriculture. I'm an agronomist, and I'm currently the Food Security Advisor for World Vision Niger. I'm so excited about the opportunity to explore the scope and nature of relationship between Environmental Governance and Disaster Risk Reduction.
Thanks for going through the trouble of delivering this course online. I am just finishing my PhD in environmental sciences at the moment and felt like I needed some perspective if I were to undertake research for agriculture in the future. A lot I learnt in this course, thank you.
I work in the Agribusiness department of a commercial bank, and i took the course as one of the preliminaries to a Master degree in Agribusiness since my background is not in Economics. Prof Pannell made the teaching so easy to follow and understand especially the calculations and the graphs. i was so excited when i learnt how to calculate the discounting factor. This is my first experience in certificate online course and i find it very inetersting and a bit challenging too.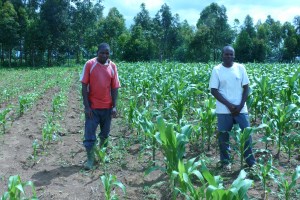 Thank you so much for providing this course. I had learned a lot I had never known before. I'm an Au pair living in Virginia U.S. currently. I spent my free time after babysitting to finish the online course. I had an Agriculture bachelor degree which related to crop protection, and I had been working in a Fungicides company for two years before I came to the US. Meanwhile, I'm seeking the opportunity to work on some organic farms here. I will be working on a local organic farm from this month to next month. Thanks for laying out plenty of online resource about agriculture and this fantastic course.
Thank you so much for the methodology used in this course. The questions and answer are very good they make you think very well. Even though I had problems with my internet during the course but I still got through. Thank to other contributors of the the program. Am looking to work on Food and Nutrition Security Using Urban and Peri-Urban Agriculture for a better livelihood for my PhD work.
I hold a Masters Degree in Physical Geography from Free University of Berlin in Germany and specialized in Natural Resource Management. Many thanks for this really great course. I liked every section of the course, I really enjoyed all the relevant material and advice and those tremendous valuable tools! Thank you so much. Returning to Germany it will certainly help me in my new career here at ADRA Germany coordinating the department for Climate Change Adaptation and Renewable Energies.
Many thanks for a really interesting and well-paced course, it was fantastic. I'm going to miss those slides and the music!
Maybe this collection of stories and feedback has inspired you to check out the course yourself, joining the 7000 people who have already enrolled. You can do so at: https://www.coursera.org/learn/agriculture-economics-nature
For more information about the course, you could check out this video.