305. Feeling virtuous: what's it worth?
We all like to feel good about ourselves. A product that makes us seem virtuous to others, or even to ourselves, would be worth paying more for than its strictly utilitarian value.
That was one of our hypotheses behind a surprising result in some recent research. We were trying to measure the benefits of installing a rainwater tank on an urban property in Perth. We did this by measuring the premium in house sale prices for houses that already had a rainwater tank installed, compared with similar houses that did not.
The results left us deeply puzzled. First, the price premium was enormous: around $18,000. Now the water in a typical tank, when full, is worth about $3, and a tanks lasts for about 15 years. That means that to use enough tank water to make the $18,000 price premium worth paying, you would you would have to use a full tank of water and refill it from rainfall about twice each day every day for the whole 15 years (assuming a 5% interest rate on your home loan). But that's way beyond actual levels of rainwater use, and it doesn't rain that much or that frequently in Perth anyway!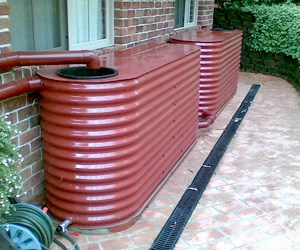 We were left scrambling for explanations for the high price premium. As I started off saying, an obvious one is the feel-good factor from knowing that one is contributing to water conservation. It could be a bit like organic food. Some of the price premium for that could reflect people's concerns about environmental impacts of agricultural chemicals (as well as perceived health impacts).
Another possible explanation is that people may misjudge how much the water captured in the tanks is worth. Water from the tap really is most extraordinarily cheap, whereas the most common experience of paying for water for most people is bottled water, which is most extraordinarily expensive. So it would be understandable to some extent if people got this wrong. We cannot tell from the house sale data what is in peoples' minds (e.g. about water cost), only the overall result.
A third explanation could be that our statistical analysis was faulty. If you look at the paper you'll see that we tied ourselves in knots, testing the robustness of the stats in ways that are far beyond my own statistical skills (thanks co-authors), but we couldn't make the result go away.
There was one more puzzle we couldn't solve, as well. The price premium for rain tanks is far above the cost of installing a tank, so why doesn't everybody with a house to sell invest in a rain tank? In fact only a small minority of houses sold do have them. I guess they aren't aware of the potential price hike.
On the other hand, we don't know what would happen to the premium if the proportion of houses with installed tanks was to increase substantially. It is likely that the greater supply of tanks would drive down the price premium to some extent.
Further reading
Zhang, F., Polyakov, M., Fogarty, J. and Pannell, D. (2015). The capitalized value of rainwater tanks in the property market of Perth, Australia, Journal of Hydrology 522, 317-325. Journal web site ♦ IDEAS page (includes link to freely downloadable version of the paper)