304. Predicting behaviour change by farmers
I have a new paper out describing ADOPT, the Adoption and Diffusion Outcome Prediction Tool. We've paid the money to make it Open Access, so I hope you will make it worth our while having done that by going to the journal web site and downloading the paper for free.
There are many hundreds of research papers on the adoption of new practices by farmers. Pretty much all of them set out to explain the relative contributions of different factors to the past adoption or non-adoption of particular practices in particular regions. There are a bunch of review papers that try to make sense of the voluminous literature (including a beauty by Pannell et al. (2006)).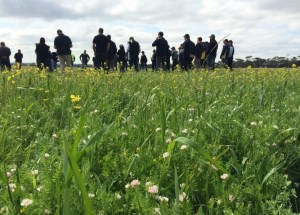 However, neither the original papers nor the reviews set out to address an issue that really matters to many people working in the agricultural sector, in research, extension, natural resource management, policy, sales, etc. That issue is the likely future adoption of a new practice that has not yet been adopted. An interdisciplinary group of us set out to fill this gap by developing ADOPT.
There are a large number of users of ADOPT – there have been over 1000 downloads of the tool, and many examples where it has been used effectively in planning or evaluation of research, extension or policy.
Now we have published this paper, which describes how we developed and validated the tool, how it is structured, and some example of its use.
You can download the paper for free here and you can download the ADOPT tool for free here. If you do it quickly, you'll be one of the first to get a new update of the model, just released on June 29.
Also available now is Version 1.0 of the "Smallholder" version of ADOPT, designed for use in developing countries. Download it from the same web site here.
Also see http://www.ruralpracticechange.net for a set of videos on the topic of farmers adopting new practices.
References
Kuehne, G., Llewellyn, R., Pannell, D.J., Wilkinson, R., Dolling, P., Ouzman, J. and Ewing, M. (2017). Predicting farmer uptake of new agricultural practices: a tool for research, extension and policy, Agricultural Systems 156, 115-125. Journal web site for free download of the paper.
Pannell, D.J. and Vanclay, F.M. (eds) (2011). Changing Land Management: Adoption of New Practices by Rural Landholders, CSIRO Publishing, Canberra. Available at the publisher's website.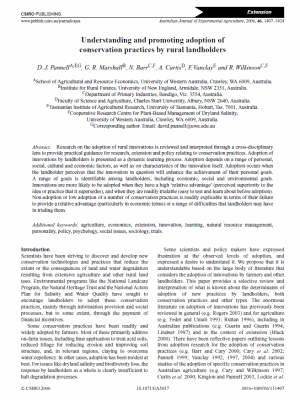 Pannell, D.J., Marshall, G.R., Barr, N., Curtis, A., Vanclay, F. and Wilkinson, R. (2006). Understanding and promoting adoption of conservation practices by rural landholders. Australian Journal of Experimental Agriculture 46(11): 1407-1424. Journal web site, or email David.Pannell@uwa.edu.au to ask for a copy.