307. John Kerin's memoirs
John Kerin was Minister for Primary Industries in the Australian Government between 1983 and 1991. His memoirs are now available as a free download. Having seen him speak several times since he ceased being a minister, I think his memoirs should be fascinating and very informative. Agriculture was very lucky to have him as minister during this period of great change and disruption. 
John Kerin was unusual as a minister in that he knew a lot about the issues he was responsible for. Not only was he experienced as an agricultural producer, but he was also trained as an agricultural economist, and worked for a while in the Bureau of Agricultural Economics.
Apparently, his expertise was not always appreciated by his department. In the last part of the book he says "the ethos of some government departments was that they preferred ministers who knew nothing – the better to manage or control them. However, I thought that it was not necessarily an impediment to know something about your portfolio areas. The constant rotation of ministers is not good for policy making."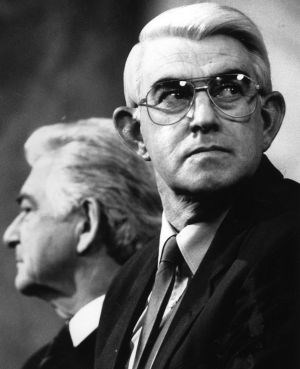 Not only did he know a lot, he was clearly very thoughtful and remarkably frank. "Nor … do I want to give the impression that I was always sure about what I was doing, what the outcome of some policy options may be or where the changes and reforms we were introducing may lead. … By nature I am a pessimist, slow to come to decisions and generally believe that I am wrong until convinced of the path to take."
A landmark event during his term as minister was the wool crisis. His eventual decisions for the industry were critically important and rather heroic as they faced fierce opposition from the whole industry, which seemed determined to do itself almost unlimited damage.
Some of his perspectives are all too relevant in our current political climate. "I have always been terrified by people in politics who are absolutely sure they are right, have God on their side or tell me they are 'men of principle'. Such people seem able to blind themselves to their own hypocrisy and humbuggery – and are dangerous."
I'm really looking forward to reading the book.
Further reading
Kerin, J.C. (2017). The Way I Saw It; The Way It Was: The Making of National Agricultural and Natural Resource Management Policy, Analysis and Policy Observatory, Melbourne. Available here: http://apo.org.au/node/76216
Pannell, D. (2014). Supply and demand: the wool crisis, Pannell Discussions no. 266.