180 – New book: Changing Land Management
I have a new book out this week: "Changing Land Management: Adoption of New Practices by Rural Landholders", published by CSIRO Publishing, co-edited with Frank Vanclay from the University of Groningen.
Description
There is a rich and extensive history of research into factors that encourage farmers to change their land management practices, or inhibit them from doing so. Yet this research is often under-utilised in practice. Changing Land Management provides key insights from past and cutting-edge research to support decision-makers as they attempt to influence or assist rural communities adapting to changed circumstances, such as new technologies, new environmental imperatives, new market opportunities or changed climate.
Understanding the process of practice change by rural landholders is crucial for policy makers, agricultural researchers, extension agents, natural resource management bodies, non-government organisations and agricultural consultants. For example, such understanding can assist with the design and implementation of environmental programs, with the prioritisation of agricultural research and with commercial ventures.
Common themes are the need for an appreciation of the diversity of land managers and their contexts, of the diversity of factors that influence land-management decisions, and of the challenges that face government programs that are intended to change land management.
Contents
Changing land management: multiple perspectives on a multifaceted issue
David J. Pannell and Frank Vanclay
Understanding and promoting adoption of conservation practices by rural landholders
David J. Pannell, Graham R. Marshall, Neil Barr, Allan Curtis, Frank Vanclay and Roger Wilkinson
The many meanings of adoption
Roger Wilkinson
Social principles for agricultural extension in facilitating the adoption of new practices
Frank Vanclay
Identifying potential adopters of an agricultural innovation
Geoff Kaine, Vic Wright, Ray Cooksey and Denise Bewsell
Identifying and targeting adoption drivers
Rick S. Llewellyn
Enabling change in family farm businesses
Amabel Fulton and Frank Vanclay
What 'community' means for farmer adoption of conservation practices
Graham R. Marshall
I hope you are feeling uncomfortable now: role conflict and the natural resources extension officer
Neil Barr
Counting women into agriculture
Cathy McGowan
Bridging the gap between policy and management of natural resources
Allan Curtis and Emily Mendham
Policy perspectives on changing land management
David J. Pannell
Orders
The book may be ordered from:
CSIRO PUBLISHING
Ph: 1300 788 000
There is more information at the CSIRO Publishing web page here. You can also place an order on-lane at that web page. Alternatively, you can order using the flier here.
Recommended retail price is $79.95.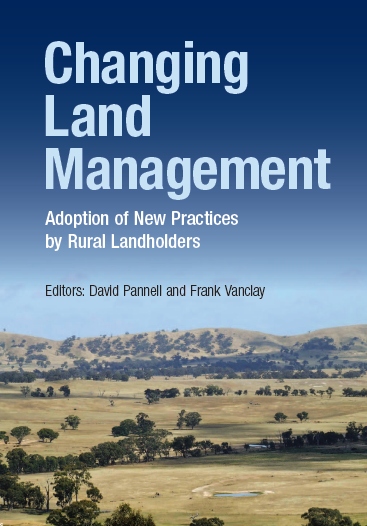 If you are interested in this book, you might also like to check out http://www.ruralpracticechange.org/. It includes videos, audio podcasts, and PowerPoint filesfrom a National Symposium on this topic, including contributions by most of the authors of the new book.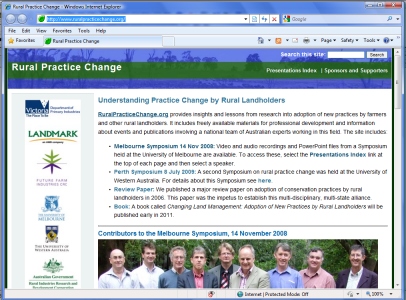 David Pannell, The University of Western Australia