258 – How many environmental targets are SMART?
In PD257 I talked about why it is important for environmental managers to set SMART targets for the projects they develop – SMART meaning Specific, Measurable, Achievable, Relevant and Time-bound. In practice, many environmental targets are poorly defined. 
Frustrated at the lack of SMART targets he observed in natural resource management plans and strategies, Geoff Park suggested that we quantify the issue. We looked at a specific set of targets: resource condition targets related to biodiversity, water and community engagement, set by Catchment Management Authorities (CMAs) in the Australian states of Victoria and New South Wales, through several planning cycles commencing in 1997. We examined hundreds of targets that are documented in over 50 regional plans that have been endorsed by governments at different times across the two states.
Because we lacked the information needed to assess achievability and relevance, we focused on whether targets were specific, measurable and time-bound.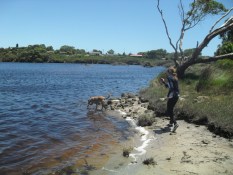 Overall, the quality of targets was poor, with less than 30 per cent meeting all three criteria. Some targets met one or two of the criteria, but most failed to meet all three.
The proportion of targets that are SMT has not increased over time, and in New South Wales it has declined. This is perhaps surprising given the robust criticism by the Australian National Audit Office (Auditor General, 2008) when it reviewed the regional natural resource management system. For example, looking at a smaller sample of targets than we examined, they found that around half were not measurable or time bound.
How about the other two criteria: achievable and relevant? The ANAO noted that there was little evidence to indicate whether targets were achievable, and that where there was evidence, the targets clearly were not achievable. "Where the impact on resource condition is identified by regional bodies, the expected results were often low (frequently less than one per cent of the longer term resource condition target)."
They also observed that there was "little information" about whether targets represented value-for-money outcomes – that is, in my interpretation, whether they were relevant.
Our experience is in line with the ANAO obervations. Although 30% of targets were SMT, I expect that only a small handful of the hundreds of targets we looked at would meet all five of the SMART criteria.
In the paper we published on this (Park et al., 2012), we suggested some likely reasons for this disappointing result:
a lack of appropriate standards and guidelines from governments to enable high quality target setting;
a lack of realism about the budgetary and technical feasibility of ambitious environmental targets amongst those involved in natural resource management; and
a lack of adequate focus on outcomes by both CMAs and governments.
How can this be improved? Fundamentally, it depends on leaders in government agencies making it a priority. They could start by making sure that the targets of their own agencies are SMART. For outside groups that receive government funding (such as CMAs), the only way we'll see a general improvement is if government agencies provide guidance and training, send strong signals that improvements are needed, and reward regional bodies that do practice outcome-focused accountability.
Further reading
Auditor General (2008). Regional Delivery Model for the Natural Heritage Trust and the National Action Plan for Salinity and Water Quality, Audit Report no. 21 2007-08, Performance Audit, Australian National Audit Office, Canberra.
Park, G., Roberts, A., Alexander, J., McNamara, L. and Pannell, D. (2013). The quality of resource condition targets in regional natural resource management in Australia, Australasian Journal of Environmental Management (forthcoming). Journal Web Site