294 – Slovakia
Most people outside eastern Europe know little about Slovakia, and it's not a noted tourist destination for the English-speaking world. But after spending two weeks there in June-July 2016, I'd recommend it highly as a great place to visit and explore.
I knew little about the place before selecting it, almost at random, as a place that would be interesting to go to. It turned out to be a great choice.
The Slovakian people have lived through multiple dramatic events and drastic changes over the past century. Here's an extremely brief summary.
Before the First World War, the area we now call Slovakia was part of the Austro-Hungarian Empire. After 1918, the state of Czechoslovakia was formed, and was reasonably prosperous for a while, but then the country became a puppet state of Nazi Germany. After World War II, Czechoslovakia had a few years of independence, but in 1948 the Communist Party staged a coup and Czechoslovakia became a Soviet-controlled satellite state. In 1968 the country entered a period of political liberalization known as the Prague Spring, but this was brutally put down when they were invaded by the Soviet Union and three communist neighbours. After the fall of the Berlin Wall in 1989, the communist government in Czechoslovakia resigned and there was a completely non-violent transition out of communism and into democracy and a market economy. Initially the Czechs and Slovaks stuck together in Czechoslovakia as one country, but in 1992 the Slovak parliament declared that Slovakia should become an independent state. It joined the European Union and NATO in 2004 and adopted the Euro as its currency in 2009.
What a roller coaster ride! Imagine the eventful life of a Slovakian who was born in, say, 1930 and is still alive.
After all that, it is quite remarkable to see what a stable, safe and prosperous place it is today. We observed clean, attractive towns, modern shops, well-maintained housing, new cars on the streets and people who are clearly doing pretty well. Their GDP per capita was 76% of the EU average in 2014.
Of course, the story is not all happy. The country's treatment of its Roma minority seems quite disgraceful. Many Slovakians are disillusioned with the quality of their government (but who isn't?) and they do seem to have more corruption scandals than you would hope. Amongst the new office buildings and shops, there are ugly and neglected old Soviet buildings. And many city people still live in large apartment blocks, presumably from the Soviet era, which look rather sterile, at least from the outside.
We spent 5 days in the capital Bratislava, which is right next to the Austrian border. If you ever visit Vienna, I suggest also making the short journey to Bratislava for at least a day trip. I can recommend going by boat, along the River Danube. Central Bratislava has lots of great old buildings and a big castle, and its setting on the Danube is fantastic.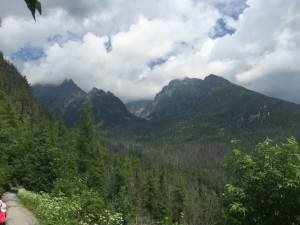 We enjoyed a relatively relaxing time in Bratislava, but the best part of the visit was yet to come. We caught a train to Poprad-Tatry, near the High Tatras Mountains in northern Slovakia, and then on to Stary Smokovec, part way up the mountains.
The scenery throughout the journey was just spectacular, with rivers, valleys, green fields, castles, hills and mountains. What an incredibly beautiful place!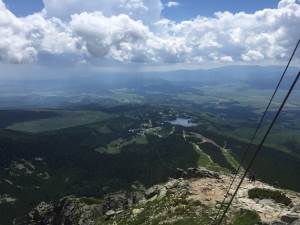 We spent 10 days in Stary Smokovec, resting, exploring and enjoying the region. It's really cheap and convenient to get around on a small electric train. The main towns all have ski lifts, cable cars or funiculars to get you up the steep mountain sides. We tried out almost all of these and had a fantastic time, marveling at the views, walking along mountain paths, enjoying the local food and observing the locals.
Once we got out of Bratislava, we found that most things are really cheap compared to what we're used to. Train travel within the country is an absolute bargain.
The area we stayed in had lots of tourists, almost all of them from within Slovakia, plus a few from neighbouring countries Poland, Hungary and Ukraine. We didn't come across any other English-speaking tourinsts the whole time we were in the High Tatras. There must be some, but clearly not many.
Despite that, we managed to get by speaking only English, as there were enough people with a bit of English around, particularly among the younger generation. Innovative sign language can be remarkably effective too.
Pauline and I agreed that the High Tatras area is right up there with the best places we have ever visited. We've been talking about how and when we might make a return visit.