328. Weitzman discounting
Martin Weitzman (1942-2019) was an environmental economist who thought laterally. He made important contributions to the field in at least three areas. Here I'll explain one of his clever insights: that uncertainty about the discount rate has an impact on the effect of discounting.
At a function in his honour in 2018, Weitzman said "I'm drawn to things that are conceptually unclear, where it's not clear how you want to make your way through this maze," and described how he "took a decisive step in that direction a few decades ago…getting into the forefront rather than…following everything that went on."
He certainly did get to the forefront! Like a number of other environmental economists I've spoken to, I was disappointed that he didn't win the Nobel Prize in 2018 when his work on climate change and discounting would have made him a perfect co-winner with William Nordhaus.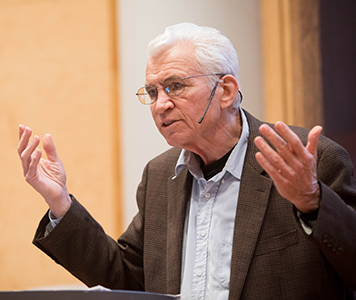 This PD is about discounting. To follow it, you'll need to know what discounting is, and how it works. For some simple background, see PD33, and for some insights as to why discounting values from the distant future raises curly questions, see PD34.
You are probably aware that discounting at any rate likely to be recommended by an economist has the (perhaps uncomfortable) result that large benefits in the distant future count for little in the present. While there are arguments for accepting that this is in fact a reasonable and realistic result, it hasn't stopped people looking for rationales to reduce the discount rate. Some really dodgy reasons have been proposed, including by economists (e.g. the Stern Report), but Weitzman came up with a simple idea that is obviously correct and has an effect equivalent to lowering the discount rate in the long run.
The insight was that, as we think about years further into the future, there is increasing uncertainty about what the discount rate should be in each year. This insight requires two breaks from the way that economists usually think about discount rates. The first is recognising that the appropriate discount rate to use is not necessarily constant over time. I remember thinking that it surely wasn't constant when I first learnt about discounting, but then I just slipped into assuming that it is constant, like everybody else. Weitzman had the wit to remember that it didn't have to be constant. [Technical note: I'm not talking about hyperbolic discounting here. In Weitzman's conceptual model, the discount rate could go up or down from period to period.]
The second break from normal practice was to think about the discount rate for a given year as something that could be uncertain. It obviously is uncertain, but it had hardly ever been treated as such.
When economists want to represent uncertainty quantitatively, we usually do so by defining the value as a subjective probability distribution. To represent a discount rate about which we are increasingly uncertain in the more distant future, we would represent a probability distribution that has a wider variance as time passes.
Having done that, Weitzman showed that an uncertain discount rate is mathematically equivalent to a certain discount rate that declines over time. In the video below I show how this works.
The spreadsheet I use in the above video is available here.
The consequence, as described by Weitzman, is that 'the ''lowest possible'' interest rate should be used for discounting the far-distant future part of any investment project' (Weitzman 1998).
To get the declining-discount-rate result, you don't even have to assume that uncertainty about the discount rate is increasing over time. As long as the rate is uncertain, even constant uncertainty will give that result.
The idea has been picked up in various ways, including in the guidelines for BCA published by the UK government. They don't recommend doing all the uncertainty calculations explicitly, but they recommend using a discount rate that declines over time.
Note that to get the "lowest possible" discount rate, he really does mean "far-distant". He's talking about dates centuries into the future. The insight doesn't have big implications for dates within about 50 years, which is about as far as many government Benefit: Cost Analyses go. For what I consider to be realistic representations of discount rate uncertainty, it would mainly affect the results for benefits and costs beyond 50 or 100 years in the future. (See the video for more on this.)
Note that uncertainty about discount rates in the distant future affects the impact of discounting in those distant future years. It doesn't affect discounting in earlier years. As a result, even if the certainty-equivalent discount rate for year 100 falls to zero (i.e. the value discounted to year 99 is the same as in year 100), the values will still be discounted to express them as present values in year zero. So future benefits still get discounted quite a bit, just a bit less than they would have if you didn't account for uncertainty. (See the video for more on this as well.)
Of course, the discount rate isn't the only thing that gets more uncertain as we look further into the future – pretty much everything does. But Weitzman's insight is still useful and relevant for some investments, even if you explicitly look at other types of uncertainty as well.
When would I suggest using Weitzman discounting? For a BCA that is capturing benefits and costs for 100 years of more. I would recommend combining it with strategies to represent uncertainty about other key variables in the analysis.
In other work, Weitzman focused on the possibility that the end result of climate change could be truly catastrophic. He called it a "fat tailed" problem, for reasons you can read about in Weitzman (2011) and Weitzman (2014). He concluded that this should "make economists less confident about climate change BCA and to make them adopt a more modest tone that befits less robust policy advice" (Weitzman 2011, p.291).
Further reading
Weitzman, M.L. (1998). Why the Far-Distant Future Should Be Discounted at Its Lowest Possible Rate, Journal of Environmental Economics and Management 36, 201-208. Paper * IDEAS page
Weitzman, M.L. (2011). Fat-tailed uncertainty in the economics of catastrophic climate change, Review of Environmental Economics and Policy 5(2), 275-292. Paper
Weitzman, M.L. (2014). Fat Tails and the Social Cost of Carbon, American Economic Review 104(5), 544-546. Paper