334. Making video lectures
Universities around the world have moved to online teaching in response to Covid-19. Many university teachers who have done little or no online teaching are having to upskill rapidly. Here, I share my three top tips for making effective video lectures. 
Pre-recording lectures is not the only option for online teaching, but it's a good option in some cases. My first major experience of this was making a MOOC (a free online course on Agriculture, Economics and Nature) back in 2015. I read a lot at the time about how to make a good online course, and it paid off as we've had around 20,000 people enrol in the course, with overwhelmingly positive feeback.
After that, with my co-teacher Ben White, we decided to convert the lectures for our first-year environmental economics course to pre-recorded videos. We found that the great majority of students were not attending lectures anyway, just watching the videos of the slides (plus audio) that were are recorded automatically. We were sure we could produce videos that would be far better for the students than those lecture-capture videos.
It was quite a bit of work, but I feel it has been worth it. The student-survey scores for the online version of our course have consistently been high.
So what would I advise to somebody who is now getting into pre-recording their lectures?
1. Break the lecture into multiple short videos
This is so important that I was tempted to do the cliched thing and include it as my tip 1, tip 2 and tip 3. The capacity to break the lectures into multiple mini lectures that the students can watch at the speed they choose is a big advantage over a traditional stand-and-deliver lecture. It would seem quite odd to stop a 45-minute face-to-face lecture 5 or 6 times to re-boot the audience's attention, but it is highly acceptable in a pre-recorded video format.
I include a little piece of music at the start of each lecture part, which provides an additional signal to students that they need to re-engage their attention. At the end of each part I also ask a question to get them to think about what they've just heard.
When I've asked students how they watch the videos in our unit, most of them say they watch all the videos for one lecture topic one after another, but they still are very positive about the way it is broken into mini-lectures. The fact that there is a question, then a new video starts, then there is music, helps them to keep engaged for longer.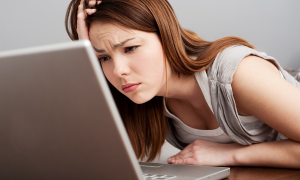 My feeling is that this is likely to be exceptionally important in the current situation, where students are getting all their lectures by staring at a screen. If we just present them with a series of normal-length lectures, it's soon going to be incredibly difficult for the students to stay awake.
2. Use an external microphone
If you use the built-in microphone in your computer to record your lecture, it will probably sound boomy, echo-y and hollow. In bad cases, it may even be difficult for the students to understand you. Using an external microphone that is located close to your mouth can make a huge difference to the listening experience of your students. It doesn't even have to be a great quality microphone to make a difference. Even a pretty cheap headset with a microphone will probably be much better than the computer's microphone. But there are lots of better quality USB microphones available if you are keen. Personally, I use this.
The other thing you can do to further improve sound quality is to record in a room without too many hard surfaces. Carpet, curtains, soft furniture, table cloths, wall hangings, etc. can all help.
3. Moderate your pace, explain well, give examples and tell stories
Cheating a bit here: four tips in one. A disadvantage of pre-recording lectures is that you can't see the faces of your students, so you may fail to realise that you are moving through material too quickly, you are not explaining it well enough, or you are getting too conceptual and failing to give examples. Given that a video is less personal than a face-to-face lecture, it may pay to make it more personal by including more stories and anecdotes.
The other thing I've usually done to make it personal is video myself speaking to the camera (which is just my iPhone) as I record the lecture. The video of me speaking is then displayed in the bottom right corner of the slide, and occupies about one-sixth of the screen space. I'm sure this makes a difference to the student experience, but it is somewhat more time consuming to create the videos, and if you are rushing to get prepared, it might be something you choose to explore later.
In case you are interested, I use Camtasia for all my recording of slides and my video editing. It's a fantastic program.
I upload all my all my lecture videos onto YouTube as unlisted videos (so nobody can find them if I don't provide the link) and I organise all the mini-lectures into the right sequence using the Playlist facility in YouTube.
p.s. Here is a new free book that many people might find useful: Take Control of Working from Home Temporarily